Submitted by:  Veronica Coffin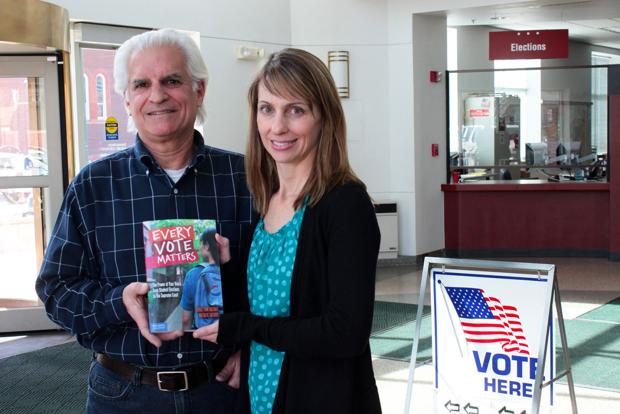 Former Maricopa County Juvenile Court Judge Tom Jacobs stands in the county elections office with his daughter Natalie. They hold a new copy of their book, "Every Vote Counts."
Their new book starts out with a statement and a question: "My one vote won't make a difference, so why should I bother to register and vote?"
Their answer: "Your vote does make a difference."
"We want to open our readers' eyes that to vote gives them a voice," said Tom Jacobs, a former Maricopa County Juvenile Court judge who lives in Flagstaff.
The book, "Every Vote Matters: The Power of Your Voice, from Student Elections to the Supreme Court," is geared toward young people, Jacobs said. But the content is relevant to citizens of all ages.
Jacobs co-wrote the book with his daughter, Natalie, who worked as an attorney in Flagstaff for several years before joining her father to manage a website geared toward young people called, "Ask the Judge." The website, created a decade ago, is meant to give young people information on their legal rights and what they can do to affect change in the world.
The book, divided into two parts, explains the election process and an individual's role in that process. The second part of the book examines U.S. Supreme Court cases that influence the lives of every U.S. citizen that were decided by a single vote.
For instance, in the Island Trees School District vs. Steven Pico case from 1982, the Supreme Court decided by one vote that it was unconstitutional for school districts to ban certain books because the books offended people for political, social or moral reasons. The book goes further to suggest what life would be like now had the Supreme Court decided by one vote the other way, and had allowed the banning of certain books from the nation's schools because they were deemed by school districts to be offensive.
"The one vote is the common thread throughout the book," Jacobs said.
Young people under the age of 18 can't vote in elections to determine who occupies city, county, state or national offices, but they can vote in a variety of other settings – high school government elections, for example – and they can take action on issues to improve their communities.
The two spent four years conducting research for the book. Jacobs became interested in the idea after reading a statistic that 40 million people in the United States did not vote in the 2008 election. During the subsequent mid-term election, only 32 percent of the country's registered voters went to the polls to decide who would speak for them in government, Jacobs said.
"People were trying to figure out why people don't participate," Jacobs added. And the overwhelming response from people who didn't vote was that their vote didn't count anyway, so they didn't bother. The younger generation, called Millennials, is a large generation that could wield heavy influence in elections, but as a group, their voting numbers are low.
At the same time, Jacobs was making updates for other books on law he has published, and he became aware that a number of Supreme Court cases were being decided by one vote.
One vote that would have deep impact on the lives of every U.S. citizen. He also found several examples of elections – locally and nationally – that were decided by a single vote.
Natalie said the point of the book is to tie the Supreme Court decisions into a larger conversation about the civic duty of every U.S. citizen to participate in the democratic process by voting. The two ideas intertwine – how one vote for president ties into Supreme Court selections and decisions.
"His idea, it got me motivated and inspired me," Natalie said. "We really have to take this civic responsibility seriously. It's made me feel much more strongly, not just for voting, but for empowering youth. They have rights and can be heard even when they can't vote."
She added that the book is meant to help young people become aware, and then become engaged, in injustice they may see going on all around them.
Toward the end of the book is a quote from the poet Maya Angelou: "In an election, every voice is equally powerful – don't underestimate your vote. Voting is the great equalizer. Your vote is not only important. It is imperative."
"Every Vote Matters" debuted on Feb. 1, and is available locally at Barefoot Cowgirl Books downtown. The book is also available through Free Spirit Publishing and on Amazon. The authors are gearing up to promote the book, which can be used in classrooms, and even comes with a guide for teachers.
Follow VeronicaCoffin